Domestic Violence & Gun Issues in Bentonville
The Effects of Domestic Violence Charges on Federal Firearm Restrictions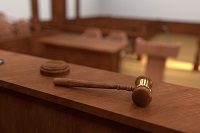 While the Second Amendment protects an individual's right to "bear arms," this is a right that can be taken away under certain circumstances. In 2015 I presented the above-titled speech in two different Continuing Legal Education (CLE) courses. Licensed attorneys are required to attend a minimum of 12 hours CLE every year to maintain their license to practice law. This goes for everyone with an active license, including judges.
After realizing how little information clients were getting about what effect on their gun rights their pending charges may have, I decided to do the research and teach other lawyers and judges myself. As a skilled Bentonville domestic violence defense attorney serving all of Northwest Arkansas, I have extensive experience with these charges.
Contact me today for your free Domestic Violence consultation.
Domestic Violence Law & Firearms
The Gun Control Act of 1968 was amended in 1996 to add a firearm restriction for any person convicted of a misdemeanor crime of domestic violence. This means that even though your state may not ban you from owning firearms due to a misdemeanor domestic violence conviction, you may be banned federally. So it's important to know what you are charged with and what effect it will have on gun rights.
Is Domestic Violence a Felony in Arkansas?
Domestic battering in the first degree is a Class A felony if the defendant either knew or should have known that the victim was pregnant, or if the defendant has a prior domestic battering conviction within the previous five years. Class A felonies can be punished by up to 30 years in prison.
The Offense - Part I
The first prong of the domestic violence offense that triggers the federal firearm restriction is the crime must have, as an element, the use or attempted use of physical force, or the threatened use of a deadly weapon.
This does not require you to actually be convicted of using force, but if you are charged with a crime that includes the use of force you must make sure your lawyer understands this law to give you proper guidance.
The Offense - Part II
The second prong of the offense deals with the domestic relationship between you (the defendant) and the alleged victim. The federal definition of "domestic relationship" will likely differ significantly from what your state considers a domestic relationship. This is a very important distinction that may help you retain gun rights.
The Restriction
If your charge ultimately leads to the loss of firearm rights, you are no longer allowed to own, possess, or transport a "firearm." The definition of firearm includes almost all modern guns, ammunition, explosives, etc.
There is a very slim allowance for black powder muzzle loading weapons, but make sure the capabilities of the gun comply with the federal definition of firearm to include the inability to fire modern rim-fire or center-fire ammunition.
The Conviction
The underlying conviction must comply with certain requirements, including the use of a lawyer or the knowing waiver of counsel, and the opportunity to have a jury trial. This, too, can be complicated, so make sure your attorney reviews the law and your case.
Can a Domestic Violence Case be Dropped?
The only way to have your domestic violence charge dropped is for the prosecutor to drop the charge. Since you didn't issue the charge, you can't drop the charge. Therefore, it's the State (and in particular, the prosecutor's office) which will decide whether to move forward with the case or drop the domestic violence charges. Keep in mind that even though you aren't the one to bring the criminal charges, you'll have an important role to play as the proceedings advance. Victims have many roles to play as a domestic violence case moves forward.
Restoring Rights
Under certain circumstances, including expungement of your conviction, restoration of civil rights, and pardons, you may be able to regain your right to possess a firearm.
If you are concerned about your rights as a gun owner, call me today at (479) 777-0640 or contact me online. I am a Bentonville criminal defense attorney with experience on both sides of the courtroom and can help you fight your case.